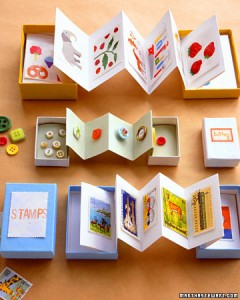 Collection In A Box  found on marthastewart.com
Materials:
paper or card stock
small box with a lid
scissors
glue
Steps:
measure and mark a long strip of paper or card stock whose short side matches the long side of the box
accordion-fold the strip and glue the first page to the inside boxes lid and the last page to the inside of the boxes bottom
add your tiny treasures to the pages and label to cover with the name of the collection
I liked this idea when I saw it but realized that I didn't have a collection that would fit inside a box like that.  They were too big or fragile or bulky so I began to think.  Inspired by Lily's wonderful Christmas gift I decided I would combine these ideas to make Poetry Presents.  Follow the same directions up above, but instead of adding a collection, write a poem.  It could be an original poem or an old favorite that you want to illustrate.  Have fun creating and writing.