You know how much I love the ideas If I Never Forever Endeavor shares with us.  I could read it over and over and over – and still wonder about what you and I might risk trying that would be like the bird leaping from its nest for the first time.  It takes a lot of courage to leave the nest and I have to say that sometimes, maybe even most times, I stay "there" because at least I know I am safe (but maybe a little boring.)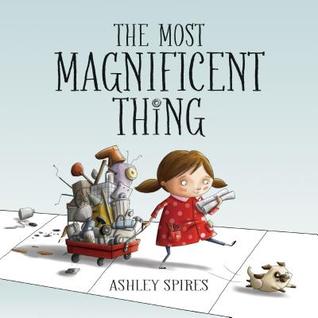 I think these two picture books go along with this one, perfectly.  The first is The Most Magnificent Thing by Ashley Spires.  The girl likes to make things and unmake things.  She likes to think and plan.  She likes to create and build.  For her it's "easy-peasy."  One day she thinks of the most magnificent thing.  She draws out her plan.  She finds an assistant, makes her supply list and gathers her materials.  She begins to create and though she knows exactly how it should be made and exactly how it should work… "They are shocked to discover that the thing isn't magnificent.  Or good.  It isn't even kind-of-sort-of okay.  It is all WRONG.  The girl tosses it aside and gives it another go."
She tries again and again and again… and again.  She gets mad.  She get angry.  Will she ever succeed?  You'll have to read The Most Magnificent Thing to find out.  As you read:  What's more important – to stay safe or to endeavor?  If you fail, can you still fly?
The second book is called What Do You Do With an Idea by Kobi Yamada. "One day I had an idea.  'Where did it come from?  Why is it here?' I wondered, 'What do you do with an idea?'  At first the boy tried to ignore it and walk away, but the idea stuck with him.  Next he tried to hide it away.  He was afraid others might think it strange, but the more the boy thought about the idea, the more he liked it.  And so he payed attention to it, but only when he was by himself.  Attention helped the idea grow and develop.  It got big and harder to hide.  What do you do with an idea that you  like, but that might seem strange to others?
What do you do with an idea?  Do you leave it alone?  Do you think about it and help it grow?  Do you share it?  Do you hide it?  Do you let it go?  After reading What Do You Do With an Idea let me know what your choices will be.  What will you do with your ideas?
Happy Reading!  Happy Dreaming!  Happy Making!  Enjoy!