We began our day making Kandinsky Dots.
After Morning Meeting we explored the eight dot activities on the Dot Day menu.  We made magnet dots, printed dots, and dots in decorated swirly gold frames.  We made clay dots and button dots and a personal dot representing our favorite things.  We started making window dots (they take two days to finish because they need to be baked), and lastly we all painted a part of the SUPER dot.
We listened to The Dot song and reread The Dot to decide what we each thought was an important message we could learn from this book.
Here's what we can learn from this story:
If you can make a mark, you can draw.
Try it.  Make a mark and see where it takes you.
Try to learn anything – try to learn a song.
Try hard.

The Dot

was written to inspire people.
Be positive, you can do it with practice.
When you think you can't draw, think again.  Actually you can!
People can draw.  Be patient and try.
Anyone can draw.
You can get better at anything.
If you can make a dot, you can be an artist.
When you can write, help another person.
The Dot is inspiring kids to never give up.
We are bringing many of our dots home today, but others will be  hung in our Dot Gallery outside our classroom.  We hope you'll stop in some time and take a tour.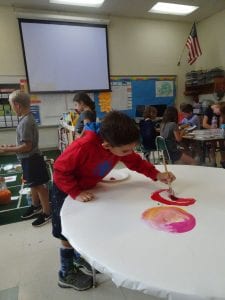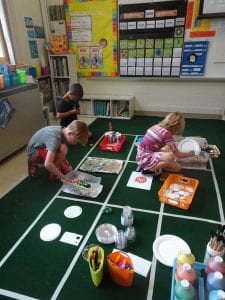 Celebrating Dot Day was "epic."  We've made our marks – and now we'll see where they take us!