Doesn't it seem as though we just returned to school from our holiday break?  Here we are nearing the end of January and approaching our 100thday of school!  Holy-Moly – time flies by so quickly
Come to the Holiday Palooza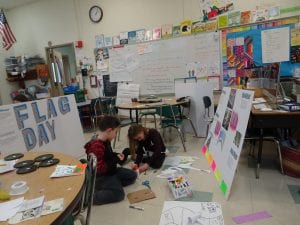 I trust that you received your invitation (save one due to an absence) and have been able to save the date and time for our holiday celebration.  The Holiday Palooza will be on Monday, February 4th.  It will be open twice:  once during the school day between 2:00 and 2:40 and again in the evening between 5:15 and 6:00.  It is our hope that the children will be present at both to the "Palooza" times though we understand if that is not possible.  The children will set up their displays and games in our classroom and classroom hallway.
Right now the room is full of busy, creating excitement.  The children
have the expectations for both the displays and their games.  It is interesting to watch how differently each student approaches his or her work. Some of the children gather all the pieces  – the paragraphs about the history of the holiday, why it is celebrated and how it's observance has changed over time, fun facts, their timeline and illustrating images first before creating.  Others begin creating right away and get lost in the process.  As they pick up, they realize they've forgotten what their research questions were or to plan how the game will teach players about their holiday. Regardless of their approach, the class is excited about the event and the opportunity to share what they have learned.
As you tour the displays and play the games, please ask the children why they selected the holiday they did.  Some have specific reasons, but others do not.  Ask the children what they think is most important or interesting about their holiday.  Others would like to share what they had the most fun creating.  You can ask the children what was challenging and what they'd do differently if they had the chance.  We hope that everyone who comes to the Holiday Palooza has fun and learns something new about our national holidays.
Growth Mindset Project
We continued to sort behaviors and have had some important discussions about who is the most important one in a relationship – is it you or the person you are with.  I think we've decided, that though it isn't always easy, if we think we should be more aware of the other person and helping him/her feel happy and supported. It seems as though everyone is happier that way. We've talked about name-calling and teasing.  One of the situations a student wrote was about having someone say, "You're such a jerk." We had a great discussion about that. We decided that before we called it bad or
good we'd need to know what happened before it was said.  What happens if it was said to protect someone who was being picked on?  Is it different if it is an argument between siblings?  We've been talking more about positive self-talk too.  We've decided that we'll see if we can find a way to remind ourselves to refer the "Developing a Growth Mindset" chart in our classroom more often.  We'll try to look for the silver lining, because it's always a little easier to succeed when we're feeling positive.
Summarizing
This week we've been thinking more about what makes a complete summary. We know that a summary is a shortened version of what we've read and tells the basic ideas from the reading.  We've been following a five-step guideline for summarizing fiction.  Somebody(the main character(s)) wanted(what does the main character want or hope) but(what was the problem) so(how did the character try to solve the problem) then(what was the resolution of the story).  We gave this format a try on our blogs.  Each student chose a book with a growth mindset theme to read and review.  We made sure not to include the last "then" step because didn't want to give the ending away.  We'll practice some more, but it seems as though everyone is off to a great start with summarizing fiction.
Bits and Pieces –
Thank you to Mrs. Zavez for helping us gather supplies for our Holiday Palooza hallway introduction.  What fun!
We've begun to learn about mapping.  We know the five features that all maps should have: a title, symbols and label, a key or legend, a scale and a compass rose.  We'll be learning more about this as we read and create maps.  We're reading about the seven continents and are beginning to think more about what it means to contribute positively to a global community.
We were super excited to find comments on our blogs from  tudents who live St. Thomas, Ontario Canada this week.  They are part of the Growth Mindset Project too and found our blog.  They are nine hours away and would love to come visit for the beaches and the lobster.
We'll be finishing The Great Sasquatch Escapenext week. We plan to create a map of Buttonville that pops out from the wall and shows where some of our favorite scenes from the book happen.
We've continued to explore linear measurement.  We're getting better at reading lengths that include fractions.
We keep hoping to get to the family story project – it's there in our minds, but we've not given it the attention it needs. …yet.  We keep running out of time.
Today first grade launched their annual 100thDay Food Drive for Gather (formally the Seacoast Food Pantry.) Be on the look out today for the notice about what 3rdgrade is being asked to donate.  Today is our 91stday of school so we only have two weeks to make sure we collect 100 of our item.