Our year has flown.  Presently the class is finishing up their final book clubs, working on their habitat displays, preparing their informational writing piece for the class magazine, completing learning reflections and putting their digital portfolios together.  On top of that we are finally learning all the capital cursive letters and working to complete our final round of timed math fact tests.
We are looking forward to sharing out habitat displays with you when you come into the classroom for your child's portfolio share.  I have waited to send this note hoping trying to determine how much time the children would need to complete all this work.  It seems that the children will be done with as much as they possibly can by the end of next week.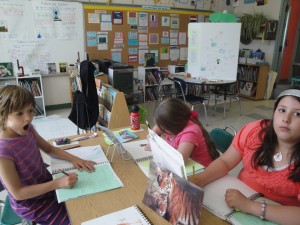 The portfolio shares will happen in the classroom.  Three can happen at a time.  Each will likely take between 20 and 30 minutes though some could be longer. (you know your child) Could you please review the schedule sent home in your child's folder.  Please mark your first and second choices for attending your child's portfolio review and send it in as soon as possible.  Please remember that your child will need to be with you to share his or her work.  As always, if none of these times work for you, please let me know and we will make another arrangement.
All the best,
Mrs. Eaves and the hardworking students of 3E
The photographs show some of our work this week in Artists'-Writers Workshop