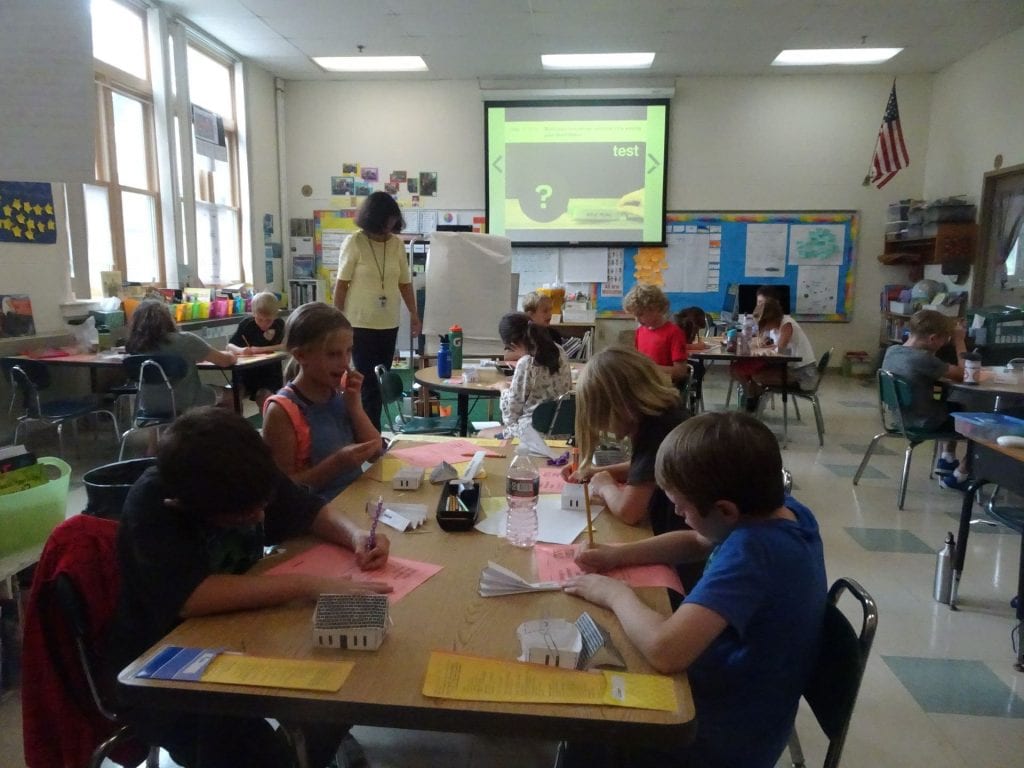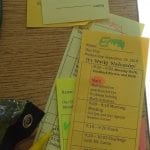 We are continuing to grow as a classroom of learners, thinker and doers.  This week we began to collect reflections on learning, we read more about different types of weather and created a wind experiment.  We've continued to learn more about multiplication and problem solving.  And of course, we read and write some every day as well. This week the class discovered the Who Will Win basket.  Many in the class have been passing these books around and talking about their surprise at which animal can defeat the other and how.  Some of the children are trying that style or writing out on their own. It's fun to see how interest grows and spreads across the classroom from reader to reader.
The Theory of Multiple Intelligences – our SEL focus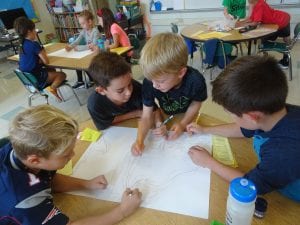 We've continued to learn more about the theory of multiple intelligences.  This week we've completed a couple different questionnaires so the children would know more about themselves as learners.  We used the different survey questions to think about how our interests and activities mirror the ways we are smart. It can be surprising to notice how even and balanced we are.  I think the children are surprised at the balance they are noticing as well.
We also talked about how intelligence grows.  We know we can change and grow in any way we choose.  My example is that I am always embarrassed that I cannot dribble a ball and move at the same time.  The truth is, I've never had the opportunity to learn and I've never taken the time to practice.   Clearly, if that skill truly mattered to me, I'd practice until I could do it.  That is the case for them too.  They can do anything they choose to do!
They'll be sharing this information and what they know about themselves as learners with families at the fall goal setting conference.
Models of Multiplication
We've begun learning more about multiplication.  We've learned a bit about arrays and function or ratio tables.  We've learned that the first factor in a multiplication equation stands for the number of groups and that the second factor stands for the amount in each group.  We know that multiplication is a way to add more quickly.
While working with some array worksheets, the class realized how learning multiplication would be a good thing.  It will help us with accuracy and allow us to complete our problem solving work more efficiently.  It is fun to see the children excited to solve math problems.  At first the problems felt hard and now they are becoming easier.  Many of the children are able to finish three and four problems in a work session.  It is great to see their focus and dedication to learning new things.
Air + Water + Temperature = Weather
We've continued to explore weather and extreme conditions.  The week we read more about tornadoes.  We've learned that they can form at the edges of hurricanes, but that they are usually separate.  We learned about their different ratings and the reason they can be so devastating. It is amazing to learn that the winds in tornadoes cannot be officially measured – they are only estimates because people can't get close enough to be certain.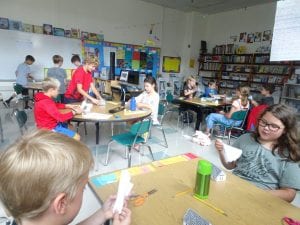 This week we worked on a design challenge.  The children built a house and a wind maker (a.k.a. – fan) and then had to figure out how to change their design so the roof and house could withstand a storm.  It was a lesson in dealing with frustration and difficulty for some.  It was challenging when some ideas worked, while others did not.  It was challenging to see those missteps as something to learn from too.  We know some of what to try again another time and what not to try as well.
Bits and Pieces –
We're learning about both weather and history by reading I Survived The Children's Blizzard of 1888.
We are looking forward to our visit from Hayley LaPoint, WMUR meteorologist.  She'll be joining us on October 4 to share her passion for science, meteorology and her belief that you can do anything you set out to do.
We'll be blogging next week.  We're excited about this.
We'll have a Fire Safety presentation on October 11 with the North Hampton Fire Department.
Curriculum Night is October 11.  There will be two 45-minute grade level presentations, one at 5:00 and another at 6:15.  We'll be sending you more information about this next week.