It sounds as though you had full and interesting vacations.  The children were bubbling over with stories as they came into school.  They seemed glad for the break, but also glad to be back together.
The end of this school year is in sight, but I am hoping the time slows down.  It feels as though there is so much to do and not nearly enough time to fit it in. Talk to your child about how our week has flown.  Much of what we'd hoped to accomplish did not happen (fables published, book clubs started, research completed…) – but the things we did do, worked out well.  We would accomplish more if we could eliminate chattiness and sneaky computer use.  Sadly, a couple children have lost their computer privilege for writing and research. We hope to promote a more responsible work ethic and an awareness of the need for responsible decision-making.
Learning a Bit About the State Testing
            The class talked about the upcoming state testing and spent time familiarizing ourselves with the format.  We explored the reading and math practice tests.  The children learned how to use the dictionary, flagging and text to speech tools.  We explored ways of making a best guess when a question was challenging.  I believe all the children understand that the test will take time and effort.  They know some of the questions will feel quite difficult, while others will feel quite doable.
I think we have addressed their questions and concerns. I think they know that we are asking is for them to give a sincere effort.  The test is not timed.  We do have an allotted time for testing, but if they have not finished in that time, we will pause that test and they will be able to finish another day.  If they are feeling anxious please let me know. We've talked about that too. Feeling nervous means that it matters and that they want to do well.  If they are putting forth their best effort – they will do well.  We will trust that they are making a sincere effort. We couldn't ask for more.
Spring is for Growing
            This week we began two different growing experiments. The first was to see if there would be a difference in how three types of Swiss chard would germinate and grow. Five children planted green chard, five planted red chard and five others planted yellow chard.  We planted the seeds in the classroom and planted seedlings in the greenhouse on the same day.  We are anxious to see when and how they grow.
The second experiment was choosing four different types of mystery seeds to plant.  We made a guess about what they were and guessed which one would sprout first. The children planted the four seeds on the side of a clear plastic cup, hoping that we'll be able to observe how they roots begin to grow and the leaves begin to sprout.  We are excited to discover what will happen as we compare the growth of seeds.  Will bigger seeds sprout before small, or is it the other way around?  Will smooth seeds begin growing more quickly or do bumpier seeds gather more water?  Does the hardness of the shell matter?  We've got lots of questions to answer.
State Wonders Research and Persuasive Paragraphing
          Several of the children have been able to complete their blueprints and have received their building permits already.  Please help your child complete his or her float plan by next Wednesday's due date.  At that time the children will be brining their completed artwork home. (If all three pieces aren't finished by Wednesday, I'll send them home as soon as they are.) The children are making artwork to represent their state symbol, their state hero and their chosen manmade Wonder.  They'll need to find a way to represent their natural Wonder and their state festival or celebration while they are building their floats at home. If you have any questions about this process, please don't hesitate to ask.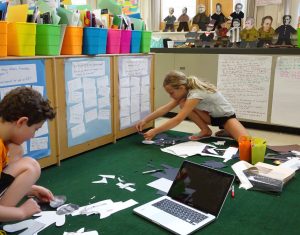 Many of the children have completed their research and have begun their Wonder paragraphs. Writing about the state Wonders is our major persuasive writing piece of the year.  Persuasive writing is different.  It makes a claim, shares facts to support that claim, coupled with a bit of opinion and preference and finally leaves readers with a choice.
To practice writing persuasively, we've been reading and writing book reviews.  First we explored how one book (Tiger Boy – one of our favorite read-alouds) was reviewed by four different sources.  Next we learned ways of organizing paragraphs by starting with a claim, supporting it with a few details and finally ending with a conclusion that asks the reader to agree with our initial claim and opinion.  Our next step was to try our hand at reviewing a picture book that was somehow related to seeds and growing.  We discovered it was easier to review a story, than it was information.   Our next practice step will be to review a favorite independently read chapter book.  By then we hope we'll be ready to convince you to explore the Wonders of each of our states.
Bits and Pieces –
We are really getting into the mystery in Winterhouse.  We have so many questions – in fact we've begun to wonder how are questions weave together.  We think we're beginning to find some answers now that we've begun part 3.
We continue to develop our understanding of

fractions as fair and even shares

.  We are developing a stronger sense of how division fits with this exploration.  Math is at the end of our day, and we've found it challenging to fit in this week.
Float Blueprints are due on Wednesday, May 9.
Our

state testing schedule

is as follows: Reading, May 8, Writing, May 9, Math, May 10 from 8:45 to 10:45 – additional time will be found for those children who need it.
We are

going to The Palace Theater

in Manchester for a morning production of School House Rock on

May 11

. Children will need to bring a bag lunch that day.  4 children still need to return their permission slips.
Sorry about the limited photographs this week.  There was a lot going on!  🙂