Our week has been mostly filled with state testing, extra recess and Wonder researching, writing and creating.
Your children deserve a great deal of praise for their effort, attention and focus during the state testing.  They tested in the computer lab and library. The rooms were full of other children elbow to elbow.  They had to focus on their own tests and stay still after they were finished for two hours three days in a row.  Most of the children needed the full amount of time to complete the tests. They worked hard.  The testing questions were difficult and the format was confusing at times.  Often wording confused the children, but they persevered and worked on.  Several children will work to complete the testing next week and then that part of our year will be behind us.
In the afternoon the children continued to complete their Wonder art and paragraphs.  I hope you found the finished artwork sent home on Wednesday as stated in the past weekly notes and homework.  Some children are still working on of their pieces – either their hero or their manmade wonder collage.  Those pieces will be sent home to you as soon as they are completed.
Most of the children have been able to meet the paragraph writing deadlines and are making an effort to add in as much detail and description as possible.  Their writing makes me smile.  They are 8 and 9 years old.  That is the amount of time they've had to experience and learn about the world. Reading that Ruth Buzzy is known for hitting people with her purse and that James Brown has unique style is definitely true – but we know it will be years from now that the children fully understand the meaning behind what they've written.   That's a great thing about learning.  Once you begin to learn about something, you keep noticing details and information that you might otherwise let slip by without a connection.
Our mystery seed experiment is exciting to see.  Talk to your child about what's germinating in their cups on the growing table.  It is interesting to see how differently seeds grow and look as they sprout.  I've still not told the children what they planted. We'll reveal that mystery next week. We've had uneven luck with our chard. We've decided that will try that experiment again because we have no idea if there is any difference in germination with the three different colors of chard.  Our plants in the greenhouse are growing well.  We are really starting to see changes as they stand up straighter and the leaves begin to grow larger.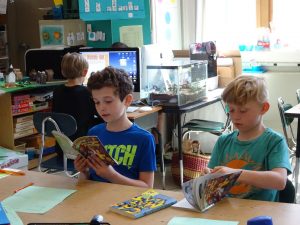 We're continuing to enjoy Winterhouse.  We are at an exciting place in the read-aloud.  Something is going to happen, but we are not sure what it will be and we are not fully certain to whom it will happen.  See what you child has to say about this mystery.  We've also tried to begin mystery book clubs this week with spotty success.  We hope everyone will have time for reading next week so we can get back on track.
We're also continuing our exploration of fractions. We've learning how to double the ingredients in recipes and to cut them in half.  There is a cookbook that features recipes and food facts from each of the states so we've begun with those.  We can learn more about math and our states at the same time.