Our week has been full of reading, writing, books clubs, a map reading challenge with Mr. Caron, problem solving and fractions.  We've even begun to think about what scientists do and spent some time reflecting on our learning for the year.
The Parade of the States
Thank you!   The Parade of the States was a wonderful success because of each of you.  All of the children were there.  All of the children had floats they were excited to share and that showcased their ideas and creativity.  This celebration of learning happened because you made sure they had the time and space they needed.  I can only imagine the conversations and time shared with children to come to this final presentation. Each of them was sure of the wonders of their state and of what they had to present.  Thank you again!
The class often talks about how much they like music because it challenges them.  It isn't always easy, but they have help to succeed.  I can't thank Mrs. Oliver enough for her effort to help all of your children learn more about reading, writing and playing music.  On top of that she helps them have the opportunity to perform for a large audience. The class had so much fun learning and performing The 50 States That Rhyme in addition to the twelve songs they performed on their recorders.  I think that's something for them to be proud of – one song a week for the last three weeks.
You may or may not have noticed that Mr. Caron helped us out tonight.  He's been our physical education teacher this year, as well as the person who plans and provides different hand-on or out door challenges. At this point of the year our challenges with Mr. Caron have all been focused on map reading and finding ways to "keep maps real" so we can read them correctly.  He has added a lot to our learning this year because he knows us so well.
Part of the state project was to learn more about the format of persuasive writing.  This week everyone tried to finish his/her persuasive writing pieces about the states.  You'll find that some of them are more informative, but perhaps the information shared will still persuade you to travel to see those Wonders.  The completed pieces of writing have been published on the student blogs. They created digital books on iPads that turn pages with a swipe.  When we upload them to the blogs, they become videos.  The pages switch too quickly so you'll have to pause the video at each page change to read it all.  I'm sorry for that inconvenience – I'm sure there's some setting I've missed.
When you view and read your child's book, please leave them a comment.  This is their most in-depth piece of persuasive writing to date.  They are still learning about finding issues and making claims that they can support with evidence.  And yet, I think they've got a strong initial understanding of how this type of writing develops and grows.
State Fun Facts by 3E
I asked the class to write what they think is most interesting about each state. Here is what they shared.  Enjoy!
"Here's what you should know about Rhode Island.  They have coffee milk.  Yum!  They make Johnny Cakes.  Also Yum!"  December.
"Michigan is known as the Wolverine State.  The traffic light was invented in Michigan.  Probably Michigan need it because it's also where cars were invented by Henry Ford."  Willow
"Here's what you should know about Illinois:
            Illinois was the twentieth state to join our country. 
            It joined on December 3, 1818."                      Miles
"Here's what you should know about Texas. Texas was the 28thstate to join the U.S.A.  Texas is the second biggest state.  The capital of Texas is Austin."  Emily
"The important thing about South Carolina is the State Person: James Brown."Annika.
"Here's what you should know about Florida.  It is the closest state to the equator and it is one of the warmest states."  Derek
"Here's what you should know about Maryland.  You should see the pig race at the state fair.  It is really cute."  Dylan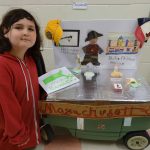 "Here's what you should know about Massachusetts.  Dunkin Donuts was made there.  The first carousel in America is there.  Its nickname is the Bay State." Tavi
"Luther Burbank cultivated the Idaho Russet potato.  It was invented so know famines wouldn't happen again."  Brian
"Here's what you should know about North Dakota.  Lewis and Clark explore North Dakota.  There are also more than 150,000 flowers planted in the Peace Garden in the summer."  Maxim
"Here's what you should know about Colorado!  Colorado is a big skiing place.  Lots of people who like to ski go to Colorado.  The places where most people go are Vail Mountain or Beaver Creek.  If you are a big skier (or snow boarder) then you should ski at… COLORADO!" Jack
"Vermont has mountains. You can go camping and there is a special place in Vermont- Quechee Gorge."  Ryan
"Here is what is important about Georgia.  Did you know that the Georgia Aquarium has the more aquatic life than any other aquarium in the world?  The Peach is the state fruit and Georgia's nickname is the Peach State. I hope you go there very soon."Alex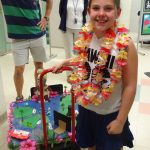 "Here's what you should know about Hawaii.  It's a very fun state.  It has beautiful beaches.  All year long it is summer.  There are lots of animals.  There are lots of palm trees too.  I hope you will go to Hawaii.  I think you'll love it there."  Izzy
"My state is Ohio.  It takes 11 hours and 45 minutes to get to Ohio from New Hampshire in a car. If you're taking an airplane, it takes 1 hour and 45 minutes.  I hope you go there." Corbin