You might need some book suggestions for the summer.  North Hampton Library has some and you can find some here too.  I visit Brightly a lot for book suggestions and this  post:  The Ultimate Summer Reading List for Kids Ages 9 – 12 is awesome!  Of course, I haven't read all the books (yet), but the ones I have are excellent.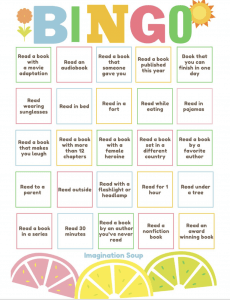 I also look for book recommendations on Imagination Soup.  This post links to their Summer Reading List recommendations. This list is sorted by genre and has excellent titles as well.
I hope you'll explore these sites and the book suggestions with your parents and begin a new "to be read" list to keep you reading all summer.
Both sites have also created Summer Reading Bingo boards.  That seems like a fun idea.  I'm going to try both: Brightly Summer Reading Bingo and Reading Bingo.
Here are some book recommendations that will help you fill in some Bingo squares.
📕 Magic Treehouse #33 ~ Narwhal on a Sunny Night takes Jack and Annie on a mission to the Arctic.  They travel back in time to meet up with Leif Erikson when he and his family first settled on Greenland.  Leif Erikson went on to become the first European to explore North America, five hundred years before Christopher Columbus.  Readers get to learn a bit of history and some interesting information about the mammals that live in the arctic ~ especially whales.  It's a fun story about how connection and care lead to hope.
This book could help you fill in the "book that you can finish in one day" or "a book published in 2020" squares.
📙You know how much I love the "Ordinary People Change the World" series by Brad Meltzer.  The newest book in the series is I am Leonardo da Vinci. You probably know many things about him already.  He was a passionate observer of nature and intensely curious about how things work.  He challenged his own thinking by asking "what if?"  He purposely chose to question and think differently than those around him.  "Nothing amazing happens by thinking like everyone else…Do what hasn't been done before.  Build what hasn't been built before.  When you do…no one will be able to look away."  Leonardo da Vinci's ordinary gift was in recognizing that new ideas were beautiful.  What is your new idea today?
This book could help you fill in the "read a biography" or " read a book in a series" squares.
📗 What fun!  The best way to introduce this book to you is by listening to the beginning of Doodleville read by the author, Chad Sell.  In this world, art comes to life.  When Drew takes her Doodles to the Art Institute they leave her sketchbook and interact with the masterpieces in the museum.  What will Drew do about the invasion?  How will the Art Club unite their powers for good?  How will each club member find inspiration for the next project?  This graphic novel is exciting to read and then reread and reread again.  You'll notice more and more each time.  Bring your doodles to life!
This book could help you fill in the "read a book with a female heroine" or "read a book about an adventure" bingo squares.
📘And finally you might like to read The One and Only Bob, sequel to The One and Only Ivan.  Here's the blurb on the cover:  "Brave hearts come in small packages.  Bob is an independent dog.  He knows he could still make it on his own if he had to, even though he now has a home with his human friend Julia, regular meals belly rubs and a bed to call his own.  But most important of all, he still gets to visit his best friends at their new home.  Ivan, a silverback gorilla, and Ruby, a young elephant, live nearby in a sanctuary.  A home for Bob, a home for his friend, and all there treats he could want …" And then the hurricane hits causing chaos and confusion.  Will anything ever be okay again?
Make sure to read The One and Only Ivan first – one story builds off the events of the other.  This book could help you fill in the "read a book with an animal on the cover" or the "read 30 minutes" squares on your Bingo Board.
If you have books to recommend, tell us about them in the comments.  It inspiring to discover all the different books , how-to's, magazines, websites, channels etc… you are exploring this summer.☀️📚😎