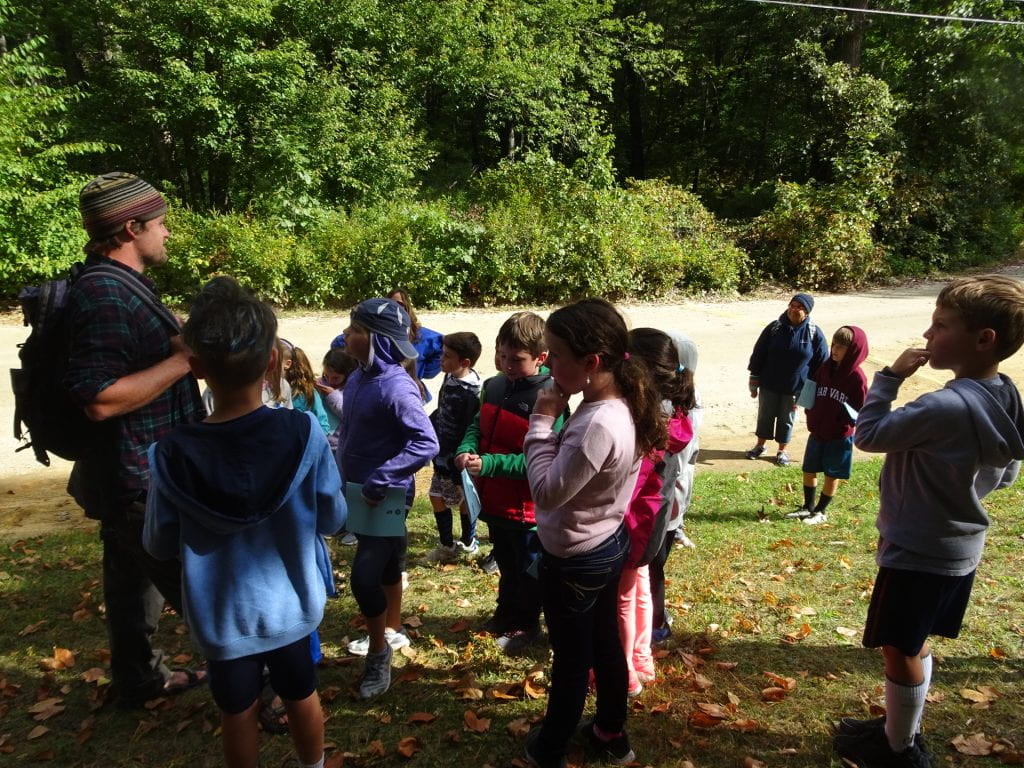 It has been a week of firsts:  first field trip, first attempts to summarize reading, first reading response and first book club.
Camp Lincoln
Our week began with our trip to Camp Lincoln.  After a few whole grade games – The Wild Wind Blows… and Alaskan Baseball, we joined Goat for a walk to the point.  Along the way we gathered ingredients for Trail Spice Tea.  First we collected wintergreen leaves, next we found Indian Cucumber roots and finally we learned to identify white pine needles and added those to the mix.  Once at the point we sat quietly and created a map of the sounds we could hear.  After a few minutes we retuned to the circle to try our tea.  It was minty and mild – not bad at all.
The second part of our day was a personal challenge.  Each of the children had the opportunity to try climbing the high wall.  Newt helped us with this element.  He encouraged the children to each set a personal goal – putting on the harness and approaching the wall, going halfway, reaching the wedge. He encouraged and supported each of the children to do what felt best to him or her.  It was hard and high, difficult and scary.  It took strength, courage and determination.  We wished we had a bit more time so that everyone had the amount of time he or she needed/wanted to achieve the goal they had set. Regardless, it was a day of learning and fun.  We discovered a lot about each other.
S.E.L – Open Circle
We're trying to develop a system for keeping track of when we are behaving responsibly.  There are several people in our class who would rather talk than accept the responsibility for settling in and doing the work expected of them throughout the day.  We talked about this.  At first the kids suggested a 3 strikes, you're out kind of deal with a note home for bad behavior.   That didn't feel too great, so we kept thinking.  Finally through discussion, we decided that we'd look for role models throughout the day, and note them on the board.  Those children who are consistently setting an example for the class will get notes sent home thanking them for their role in helping us create a calm, learning environment.  We've been trying this for a few days … we'll see how it goes.  Ask your child how s/he feels about it and if it is reminding him/her to do the right thing at the right time more often.
Our Open Circle lessons this week have centered on being calm and listening.  We've been reading the I Am…books by Susan Verde.  She is a yogi and her books are written to help us think about mindfulness, empathy and compassion.  They are helping us to create a more peaceful, calm, and focused classroom.  We are certainly more available for learning when we are calm.
Reading Is Thinking
For the past few weeks, each time we've read a book together we've thought about what the author's purpose was.  What was the message he or she hoped we'd take from the story? We discovered sometime books help us feel better about our selves and our struggles because we can read that we are not the only one.  We've discovered that some books are just entertaining – Dumb Bunnies was meant to make us laugh.  Some books help us understand how others feel and still others can teach us information or history.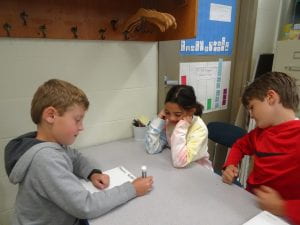 We've also practiced summarizing.  We've been trying to summarize our reading in three to five sentences.  That means we a trying to collect the essential ideas in the story without getting bogged down in the detail.  We've worked together as a class, in small groups and individually to practice this week.  We are using this as part of a reading response routine:  Sketch-to-Stretch.  This week everyone in the class is reading one of four different picture books with a theme of writing and creating stories.  We'll be meeting in book clubs next Tuesday to share our responses. Each will show images of the main actions, have a 3 to 5 sentence summary and a caption sharing the author's purpose or message.  While still in process, it is interesting to notice how each of the students is choosing to share his or her thinking. You may want to ask your child about his/her book club book.
Bits and Pieces:
We are continuing to explore the

Theory of Multiple Intelligence (MI)

.  We took as second survey and will use that information to create a pie chart showing all eight of our intelligences and how we know that about ourselves.
We continued

measuring

. This time we are using the Metric System.  The kids agree that using centimeters seems more accurate.  It's good to know both.
October means a new calendar pattern and new number corner activities.  This month we'll be exploring different

models for multiplication

. Many of the children are looking forward to exploring this math operation more fully.
Be on the look out next week for two different conference sign-ups.  The first will be for a student-led goal setting conference in the third week of October.  This will be an anchor for the year.  The children will share what they've discovered about themselves through the MI theory and how they see themselves as learners, readers, writers and mathematicians.  They will have set goals from themselves that they will share as well.   Following that conference, in the first week of November, we will schedule a parent teacher conference to discuss your child's work habits and progress toward meeting term expectations.

Homework begins

next week. Thank you for sending the folders in everyday!  It is much appreciated.  That habit will be very helpful in keeping your child organized and aware of what their responsibilities are at home.