This week we've learned more about graphs and graphing, we tried to convince others to visit our state by describing the wonders we found there and we've had time to read, write, solve problems and reflect on our accomplishments.  Thank you for selecting times for your children to share their portfolios with you.   It has been interesting for them to realize all they have been doing this year.
U.S. Geography and Information Writing
As the children wrote about their State Wonders, many of them remarked on how they feel they have grown as researchers and writers. This piece had a little different twist. They were trying to make a claim and persuade others to agree with them.  Some of the children were able to be strongly persuasive, while others began, but seemed to forget that voice.  Regardless, the children have learned how to read information and select important facts to share.  They have become better able to organize their facts in a unique way and to share their understanding and ideas.
Most of the children have been able to complete blog posts about the State Parade project and another sharing the Wonders of their state.  Some of the children won't find time to complete these posts this week, but will by Monday or Tuesday.  Please keep checking their blogs.  They hope you'll find a moment or two to read and respond to them with a comment.
Taking Stock
In 1949 Margaret Wise Brown wrote The Important Book.  It follows a simple pattern in noticing how everyday things – rain, grass, apple, shoes, etc., – add greatly to our lives.  Each poem begins and ends with a most important thing. For example, "The important thing about a spoon is that you eat with it.  It's like a little shovel, you hold it in your hand, you can put it in you mouth, It isn't flat, it's hollow and it spoon things up.  But the most important thing about a spoon is that you eat with it."
The children are using this format to write about what they've accomplished this year and what feels important about their 3rdgrade learning. It is interesting to think about all that we've done this year.  Looking at our classroom timeline has reminded us of the many opportunities we have had to learn and to share with other this year.
SEL – Social Problem Solving Through Communication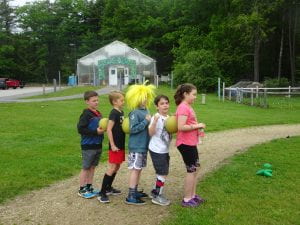 We've continued talking about social problem solving in Open Circle and Morning Meeting.  This week we've focused on what we can each do to make the situation better. We've talked about actions we can take to deescalate a situation.  Again, we realized this is easier said than done.  We're trying to help each of the children feel as if they have many different options for themselves once they've calmed down and made a choice. We can use "I statements" and say something, but that doesn't always change another's actions.  We can stay calm and walk away – as long as we are being polite.  We're really trying to consider what needs to be made a big deal of, and what can be ignored. There's still a long way to go.  Developmentally, this is the age when children begin to see through different eyes and like seeing themselves as part of the solution.
This week we participated in another challenge with Mr. Guidi.  Last week we worked in teams to solve puzzles – the added twist was that talking was not allowed.  We learned that, while the teams worked better when everyone participated, they could succeed is someone was distracted.  This week, that was different.  Everyone had to be focused and willing to communicate to be successful. Every member of the team had to work together to accomplish the goal.  The photographs show some of their efforts – on Crazy Hair Day.
Bits and Pieces –
We had fun learning about different types of graphs while planning our perfect sundaes.Each of the children had to create a 12-scoop sundae, name the fraction of each type of ice cream and graph the information four different ways.
We're nearly finished with The Green Ember. We are eager to discover what will happen to Heather, Picket, Uncle Wilfred and Smalls. Will they find their family?  Will the Mended Wood become a reality or is Helmer right?  Are they all going to lose to Morbin and Red-eye Garlekson?
We've completed the Loop Group and are now on to the last group of cursive letters – Hills and Valleys.