We are very busy. We're trying to establish a safe habit for our class reptile – leopard geckos.  They live in the desert so it has to be hot.  We are trying to find a safe way to make sure the temperature doesn't drop too much at night and on the weekends.  It's been an interesting and exciting process.  We also had the opportunity (a high pressure system moving in) to set up our storm glass so now our weather corner has another tool that we can use to predict the weather.
We've been preparing for student-led goal setting conferences, writing informational weather essays, exploring description and learning about symmetry.
Setting Goals – Preparing for Student Led Conferences in November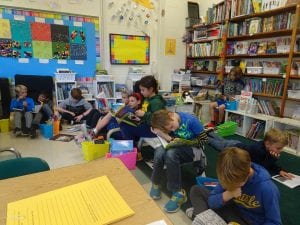 This week we've spent time thinking about goals.  We've tried to be specific.  We've tried to make our goals about something important and doable.  We're also thinking about the evidence we might collect to show we have accomplished our goals.
We began our discussion with reading.  We've been paying attention to how each reader can grow.  Here's what we decided:
Reading grows if…
… you have good reading habits.
You get your book box ready
You read books that challenge you some, and that you will stick with and read from cover to cover.
You read most of independent reading time with only a little looking or skimming and scanning.
…you try reading different types (genre) of books.
…you keep track of your thinking so you can show it or tell it to others.
…you learn new words and develop word attack skills.
Once we discovered what we might do to grow as readers, we set a goal for the week.  We called it a W.O.W. (within one week) goal.  We've discovered that even though we know how we might improve our reading skills, we don't always do what will help us.  We really do have to make a plan if we are going to accomplish what we set out to do.  We're trying to explore new books and spend more time thinking about what we're reading.  They deserve to be proud of all they are attempting and doing as readers.
Exploring Symmetry
This month our calendar is filled with a pattern of polygons.  We're learning about different types of triangles, quadrilaterals, pentagons and hexagons.  We've discovered that when they are called "regular" shapes the sides and angles are equal.  "Regular" shapes often have many lines of symmetry. Symmetry is all around us.   We've looked for things in the classroom that are symmetrical and we've explored symmetry in nature too.
Developing our Writing Using Elaboration Strategies
We began to explore ways of expanding our writing by adding description.  We've been learning about traits and adjectives.  We've begun to categorize words that could be included in descriptions and we've been challenging ourselves to find as many ways as possible to describe one thing.  Here are our descriptions of a nest – a list of words that turned into a poem.
Nest
Pokey
Wispy
Grassy
Small
Prickly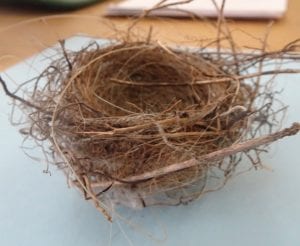 Survival
Gentle
Inspiring
Secure
Exciting
Round
Light
Fluffy
Unique
Fragile
Bowl
Fluffy
Delicate
Life
Home
Bits and Pieces –
The Wild Robot is full of wonderful characters and rich description.  Ask your child to describe his or her favorite part so far.  Some of it's funny.  Some of it's worrisome?  We're wondering how the story will end.
 Picture retakes will be on November 1.  If you plan to have your child's picture retaken, they'll need to bring the packet back on that date.  If they were absent your child should plan on having his or her picture taken on the first.
We have a new outdoor challenge schedule.  Mr. Guidi (Mr. G to the children) will be leading these challenges.  Here is a new list of dates.
Thanks for putting them on your calendar.  We will be outside if at all possible.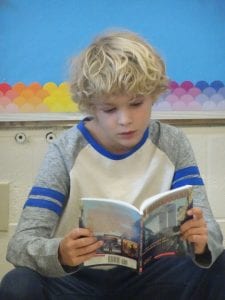 3rd Grade Challenges – 3E
November 7th
November 28th
December 12th
January 2nd
January 16th
January 30th
February 13th
March 6th
March 20th
April 10th
May 1st
May 15th
May 29th