Our first science inquiry of the year is about weather.  We've learned a lot already and we're excited to learn more and more.  We've been learning about the difference between daily weather and climate.  We're recording daily weather and looking for patterns.  Each morning we read the temperature and graph the weather and precipitation of the day.  Soon we'll be exploring barometric pressure as well.  We are learning how to use these points of data to make reasonable predictions about what kind of weather might happen next.
Each student has chosen a type of weather he or she would like to explore in more depth. Some will be researching and learning more about tornadoes.  Others will be learning about snow storms, while still others, will be learning about blizzards.  Some children will research hurricanes and other are researching different aspects of weather like clouds, rainbows and the study of meteorology.
Children will be using print resources and online resources too.  Here are some online links to get us started.
Weather for Kids offers some basic information and may answer some of the questions you have. It is easy to navigate from one type of weather to another.
Web Weather for Kids shares more information, projects and activities that can help you discover even more about weather too.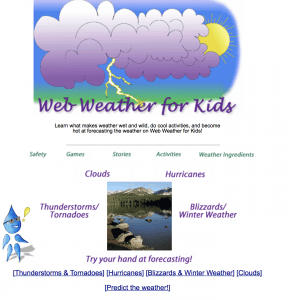 Weather Wiz Kids is a site created by a meteorologist.  She is sharing her love of weather and lots of information too.
The NOAA website has some interesting links.  It is sophisticated and a bit tricky to navigate – but I bet you'll find an answer to a question there that you can't find anywhere else.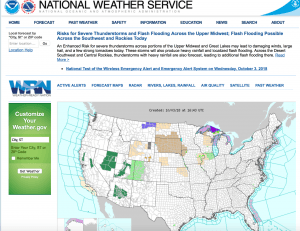 Here's a place to start as you research to become a WEATHER EXPERT!