Thank you so much for making arrangements and plans to make The Country Convention – our research, your learning a success. Thank you for sharing so many wonderful artifacts and information. Also thank you for helping the children work through their concern and worry in dealing with our unexpected days off. When the event started this afternoon you could feel the excitement and enthusiasm in the room – and you could hear many interesting things about Wonders in our world.
Because our week was so wonky, I asked the children to help with the memo. The sentences that follow are their own description of what they think is most special about the country they researched and what they liked most about the research process.
Here's what they said:
"I think the Great Pyramid is the most special Wonder of Egypt because it shows Egyptian history. I loved making the 3D Sphinx because I got to choose how he should look." Emily
"I think the beauty and the wonders were most special. I thought learning about this country was really fun. I liked finding out the fun facts and learning about the pretty things." Annika
"The places that have history behind them like the Colosseum and the Spanish Steps are the most special. I like making the model of the Forum and the felt Italy." Alex
"What I think is most special about Germany is that it has a very fun language. I say this because it's a cool sounding language. I like that I got to do this project with my friends." Izzy
"I chose France because of its history. I like to do the set up for our countries because I got to use my imagination." Tavi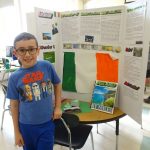 "I think Ireland is special because there is lots of nature and green. Researching." Miles
"I like my country because of the fact that it's a country and a continent. Its flag has another flag in the corner. I just really, really like it. My favorite part of the research was gluing things on and saying what mom should type." Willow
"I picked the Hagia Sophia Museum as most special because they have facts about Ancient Turkey. I like writing because if I didn't, you would not be learning what I know." Dylan
"My country was special because my Nana and Baba went there and I wanted to know more about it when they brought it up. My Nana and Baba got real stuff from Greece." Ryan.
"I chose Russia because at the time I thought I was 50 percent Russian, but now I know I'm 2 percent. Still I think Russia is cool and all the places there look pretty. Sadly, I've never been to Russia, but I've seen pictures of it. I liked it all, but it was most fun setting up the board. I like typing on the computer and I also liked reading a lot. The way I saw most of the pictures of Russia was from researching the information for making the display boards." Maxim
"The Visocica Hill Pyramid because it had really cool stones and gems. I like making my bridge the best because it looks just like the real thing. Me and my mom worked on it." Jack
"What special about Venezuela is that the Amazon forest and river are in it. I like setting it up." Derek
"I think the baobab tree is most special because it hold water and makes medicine and other things. Making my board." Brian
"Christ the Redeemer is the most special thing in my country. Because ever since I've known about the statue, I've wanted to go there. I like drawing Christ the Redeemer the most." Corbin
"There are beautiful lakes and animals there. I would love to go to Guatemala. Making the display board was what I liked most because I love doing arts and crafts and this is some like that." December
Finally I asked the class what they'd do to help the world become a happier and more peaceful place. They said:
Keeping the water clean. Listen to the water in streams. It sounds so peaceful.
Sharing something special and that will help him want to do something nice and it keeps going and going and going.
Instead of fighting talk it out with words.
Drop cookies from planes.
To make peace we need no wars. The Bosnian War ruined lots of things in Bosnia.
People should have the stuff they want.
Give the people the money, water and food they need.
Sharing a toy with a friend and then my friend sharing a toy with one of his friends. It keeps going on until none of the bad people are bad. They turn nice and there will be no harm.
I wish to stop cancer around the world so everybody is healthy.
I would like to clean the water in all places because not a lot of people have clean water.
Let people be free.
Help people treat people equally.
Feeding and helping poor people.
Helping animals all over the world because I think they should have better homes.
Your children are wonderful ambassadors of our world.