Another week has zipped by. How we long for more time in our classroom for reading, writing and researching, to say nothing of science, spelling, social studies and math. It always seems as if we are going off to something else… we like those things too, but it is hard to build momentum with all the starting, stopping and re-starting again.
Researching and Preparing to Present Our Information
This week we talked about how much time we thought it would take us to complete our research, plan how that information would be presented and then finally to create our habitats and animal. We decided that we could be done in a month's time. We are planning to open our zoo on Tuesday, November 28. It will be open in the afternoon from 2:15 to 2:45 and in the evening between 5:30 and 6:30. It would be wonderful if all the children could be at the evening zoo. Part of the learning process is to be able to act as a zookeeper and explain all about the animal they are presenting to an audience. That said, I know it is nearly impossible to select a time that works for every family. So thank you, for doing what works best for your family.
The children are preparing themselves to be able to answer questions about their animal's habitat and how they are a part of the food web found there. They are learning about their animal's habits and behaviors. They are learning about the daily routine and family life of their animals. And finally they're learning about their animal's diet and what a good home is for them so they feel safe and well cared for.
Most of the children have read two or three books about their animals and have explored several online resources as well. Many of them are selecting the format they will use to present their information and are in the process of typing the information using Print Shop so they are able to polish their work with headlines, caption and labels.
Looking for Recycled Stuff from Home – We'll start making the animals in art next week. We are looking for small boxes (shoebox size), cardboard tubes, plastic bottles, and any other "stuff" that could be used as the foundation for the paper mache structures. If you have any of those supplies please send them in. We would be very grateful!
Habitats and Food Webs
We've been learning more about habitats, food chains and food webs in science. We know that the basic needs of all living things are found in their habitat. We identified air, water, food, shelter, sun and feelings of safety and/or companionship as basic needs. We've also been exploring what happens when changes are made in a habitat. It can be pretty surprising. We have more to learn about this topic, but it has launched some interesting conversations in the class. I imagine the children would enjoy sharing what they're discovering with you at home. If Sharks Disappeared was one to the books we reread as we began wondering about these changes.
Looking for Volunteers – It looks as though we might have a window of sun on Tuesday, October 31. I am hoping to have each of the children create their own mini-habitat (a.k.a. terrarium) in the afternoon between 1:00 and the end of the day. I would be very grateful to have several volunteers to help with this.   If you are available and willing to help out, could you please send an email my way this weekend? You'll be helping the children gather plants and mosses from the wooded area along the nature trail and then guiding them through the building process. I am planning directions that will ask the children to measure certain amounts and I anticipate that children will need some assistance with this as well. Each child will have a terrarium to bring home AND each table group will make another terrarium to leave in the classroom so we can make observations together throughout the rest of the school year.
Learning the Distributive Property of Multiplication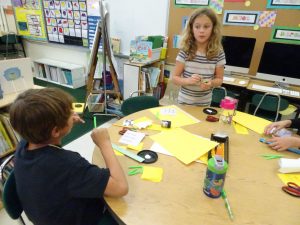 We've continued practicing the steps of the distributive property with multiplication. The children are growing in their understanding. Some of them are solving rather complex problems quickly. It seems as though everyone understand what multiplication is. Now we are ready to focus on multiples and learning the facts. This will take lots of practice and time. Thank you so much for helping and encouraging your children as they endeavor to master this new set of facts.
Bits and Pieces –
Our word study focus this week has been on learning all the spelling rules for making nouns plural.
We've begun reading Gooseberry Park by Cynthia Rylant as our fourth chapter read-aloud. It is an interesting contrast to the One and Only Ivan. It will be interesting to make comparisons between the two.
The pattern on our calendar is helping us explore different concepts about geography. We're learning new terms: polygon, quadrilateral, vertex, acute and obtuse. We've learned about right angles too. This is all still a bit confusing to the class. You might have fun looking for different kinds of angles at home. We've looked for them in the classroom and discovered most angles are right.