Curriculum Night is September 28, 2017. The 3rd grade presentation will be from 5:30 to 6:15. We will gather altogether in Mrs. Oliver's Music Room for 30-minute curriculum presentation. Then families will have the opportunity to go to the classrooms to see where your children work and leave him/her a note about the work left for you to see.
We posted a new sign at our doorway – "Let's leave chatting at the door." Our class has a lot to say and for some this is at the expense of getting work completed. That's putting us in an awkward place – half the class is done and ready to move on, while the other part of the class is not. They've literally, talked their time away. Any reminders you can offer at home to encourage your child to focus on the projects and assignment first, rather than chatting will be greatly appreciated. We are working as a class to come up with a plan as well. I am confident that we'll find a way. Thank you for your helpful reminders.
Franklin Park Zoo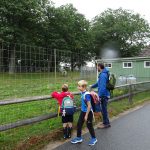 Since our trip to the zoo we've been reading about them, and trying to decide how we feel about them. We think zoos are good because people can see and learn about animals they wouldn't normally be able to see. They are good because zoos are making an effort to help endangered species and helping to involve people like us in conservation. They are also good because many of the animals come to zoos after they have been injured. Zoos enable them to survive.
We think that zoos are not all good.   The animals are kept in cages. Yes, some of them are created to be like the animal's actual habitat, but the animals are still enclosed. We've learned that some animals kept in zoos have shorter lifespans than they would in the wild. Zoos have a hard time raising enough money to keep the animals as they should be kept. And in some zoos, the animals are not kept or treated well.
We decided, though, that there are more "pros" than "cons" and we are glad we were able to visit the zoo. We learned a lot from our trip. Our favorite animals were: red river hogs, zebras, tigers, African crested porcupines, pottos hippopotamuses, fruit bats, red pandas, bongos, gorillas and camels. In folders this week you'll see lists and illustrations of animals that share what the children are considering as they make their final choice about the animal they will research and become an expert on.
Finally, thank you to all who were able to join us on our trip as chaperones. We are grateful for your time and attention. Thank you for making the trip a fun one for all. We hope you had a wonderful day with your children.
Informational Reading and Writing
We've been reading a wider variety of informational books this week. We've begun examining some of the different text features found in nonfiction. This is not new for your children. It is a little refresher – a reminder of the text features and graphics they learned about last year. In your child's folder you'll find an activity he/she did with Steven Jenkins' books in the library. If you're not familiar with his work, check it out at the library. He has a real knack for presenting unusual facts in fascinating ways and illustrating them beautifully.
In the classroom we've explored a variety of topics to give your child some idea of what they might teach others about. Next week the children are going to choose a topic and write their first informational piece. It is fun to hear them talk about all the things they realize they can teach others about. They may need/want some suggestions from you. It can be challenging to know what you know enough about to write in a way that will inform and teach others.
Multiplication
We've begun learning more about multiplication. We've learned a bit about arrays and function or ratio tables. We've learned that the first factor in a multiplication equation stands for the number of groups and that the second factor stands for the amount in each group. We know that multiplication is a way to add more quickly. We learned to play Circles and Stars this week. It is fun game that allows us to learn and practice these facts.
Bits and Pieces:
We practiced map-reading skills while we planned our trip around the zoo and chose the exhibits we wanted to be sure to see. Later we plotted our path through the zoo and the exhibits. Maps can sometimes be tricky.
We began reading Katherine Applegate's The One and Only Ivan as our new chapter book. This is a novel based on the true story of a gorilla kept as an attraction at the Big Top Mall and Video Arcade. I imagine your children having lots to say about this book in the weeks to come about animal treatment and care.
We finished some of our spelling assessments. This year I've chosen to send them home. It is a tricky choice. The assessments are meant to measure June accomplishments. The children are looking at them and realizing they have some words to practice and learn. I think that is a good thing for them to realize. A few of the children have felt worried. They've asked if they could do them over. I've assured them that they will. Please know that we've got a whole year to learn and grow. All of these kids are in a good place to meet with success.
Thanks for reading and for all you do to encourage your children.