We've been researching and writing, reading and thinking about diversity in our world. We've been learning how to use the standard algorithm with addition and subtraction of large numbers. And we've also begun to learn capital letters in cursive.
Global Geography – Part 1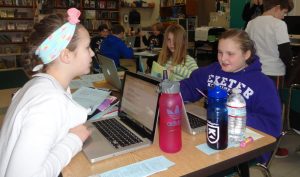 We decided to hold our Global Geography Museum on Tuesday, February 21. It will be open in the afternoon for a practice run through from 2:00 to 2:40 and then again in the evening from 5:45 to 6:30. We know that families and children are super busy, but we hope one of these times will work for your family. Ideally we would love to have all the children attend the evening presentation. One of the goals of our museum projects is of having an opportunity to formally present and share learning to an outside audience. That said, we totally understand if your child is unable to attend. There were tears in the classroom as we tried to choose a date. Many of the children feel they won't be able come.   We heard things like, "Oh, I'm not going to be able to do that – I can't do any nights" or "That's impossible for me" as we were choosing. I hope we can make things work for as many of the class as possible – I am gladly available for rides, pick-ups and/or drop-offs. We hope by letting you know now, families will be able to make a plan somehow to see their work and hear about all we are learning about our world.
Global Geography – Part 2
Receiving Blog Comments From Across the Globe
As the children travel further into their research – while searching for a famous person or a famous landmark, for example – they are encountering many different images and reading about many different events throughout history. It is becoming apparent that not everything in the world is happy and peaceful. They are wondering and that is exciting. We've had discussions about conflict and reasons for war. We've wondered why they happen and how they stop. We've wondered about what we can do. Their most common response has been to make changes so everyone feels they have what they need.
One thing we discovered through our exploration is that though we're all different, we share more in common with each other. We are hoping to make the world a happier place by learning about each other.
One step we've taken to learn more about each other, was to ask questions on our blogs. The children are hoping to receive comments from people who have traveled to the countries they are researching or who actually live in that country. You can be of help with that by reaching out to families and friends. Your connections are GREATLY appreciated. It will be so exciting for the children to find comments from their countries on their blogs.
If you have friends who could comment, please direct them to 3enews.edublogs.org, have them select the student blog they have a connection to and comment.
Here is a list of the kids and their countries –
Julie – Egypt                           Tera – Japan                           Lucy – China
Rachael – France                   Sully – Brazil                           Gavin – Canada
Katie – Australia                    Keegan – Canada                   Liam – India
Jaida – Russia                        Zack – Zimbabwe                   Jayce- Mexico
Max – France                          Samantha – Thailand           Danick – Sweden
Mackenzie – South Korea                 Gabby – Greece
Global Geography – Part 3
Organizing the Research and Note -Taking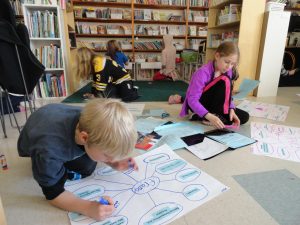 Thank you so much for taking the time to talk with your child about his or her country. Your support is filling the classroom. We've heard about the tours you've taken together on Google Map and the videos you've watched to learn more about people and places. We've even heard of some of the restaurant choices you've made to try a county's cuisine. All those opportunities add so much to the more traditional experiences at school. Thank you.
Most of the children are still into the research phase of the project. We have sheets for the seven different wonders and we've created information webs to categorize what we've discovered and what we've yet to learn. We are close to the planning stages and kids are getting excited about the building and making stages.
Using the Standard Algorithm
We've been reviewing place value and learning to read numbers through the millions. We've been solving many different addition problems. We've started with problems that feel easy, gone on to problems that are quite challenging, backed up to a middle ground and then pulled all of the experiences together. This lets the children recognize they DO know what to do, and it helps them see the pattern among numbers, amount and operations that will guide their understanding.
Many of the children will be bringing home papers that are only partially completed. That is fine. It was a choice. I asked them to work with the new strategy for 10 minutes. Then I offered the choice – to finish the worksheet, or to solve one of the problems of the day. In those problems the children have been working with billions and below. It is impressive to see how their comfort with large amounts has grown over the last month or so. I am impressed by their willingness to work through challenges. It's fun to see.
Bits and Pieces –
THANK YOU! THANK YOU! THANK YOU! 3rd grade met and surpassed its goal of 100 tubes of toothpaste. The food collection outside the library is a truly moving site.
We've read several more

fables

this week and are getting ready to write our own. I am looking forward to learning what lessons they each have to share.
Eben from Sassafras Springs, the main character has collected two wonders so far in The Seven Wonders of Sassafras Springs. His goal is to collect seven wonders in seven days. Day 3 with a disappointment, but we'll see how it goes.
Our

Valentine's Day breakfast

will be on February 14 – sharing valentines is how we will begin our day. We'll have this time eating in place of snack.
At Harvest Fest Julie won the chance

to be the art teacher

. Here she is in her new role. Perfect!