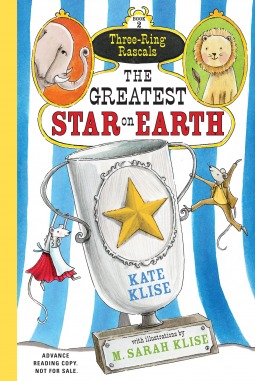 The Greatest Star on Earth – book 2 of Three-Ring Rascals written by Kate Klise and illustrated by M. Sarah Klise
of interest to 2nd through 5th grade readers
Sir Sidney has the best circus in the world.  It puts everyone in a good mood – no matter how bad your day has begun!  On top of that, Sir Sidney is the nicest man alive.  He greets everyone who comes to his circus personally and children are always allowed in for free.  He also makes time for his performers.  Though he has seen Stan and Dan, the Flying Banana Brothers perform their tricks every day for years, he still stands and cheers when he watches them.  He always applauds Leo the lion's song and he still gasps with delight when he sees Elsa the elephant dance.  It is true: Sir Sidney's Circus  Animals, Acrobats, Amazing Feats  Every show is guaranteed to tickle your funny bone and put a smile on your face.  It does.  It always does – well except for that time when Sir Sidney hired Barnabas Brambles to help. According to Bert and Gert, the circus mice, "Let's just say it was a disaster."  "It was.  That's a fact."  You can read about that here.
Sir Sidney says, "But here's another fact.  Everyone deserves a second chance.  We can help Mr. Brambles become a better man.  Traveling with a circus is a wonderful way to learn."  After he post the weekly schedule of performances, Sir Sidney gets a letter from Polly Pumpkinseed  – publisher of The Circus Times.  She is trying to drum up business for her magazine and has decided now that Sir Sidney has the best circus in the world there must be a contest to find out who the best performer is.  He or she will be named Greatest Star on Earth and win a trophy.  Polly Pumpkinseed plans to attend one of the shows in disguise to select the winner.  Sir Sidney is distraught.  All of his performers are excellent – but only one trophy means only one can be selected.  Soon Sir Sidney collapses and Dr. Dora Drap discovers he has a "worry wart" growing on his nose and spreading across his face fast.  He must go the hospital immediately.  So it looks like Barnabas Brambles is going to get that second chance.
You'll have to read The Greatest Star on Earth to find out what happens when Sir Sidney can't be cured, Barnabas slips back into his old ways and there is only one trophy for one performer to win.
As always the Klise sisters' books are full of humor and designed to enjoy.  You can read about them and explore their writing and art here.  Sarah's Top 7 Drawing and Writing Tips made me think of Lily and Katie's pieces in our magazine.  Enjoy!  Let us know what you're reading and what you'd recommend in a comment.