This week we had our Inquiry Museum.  Inquiry is when you study something and become an expert on it.  Everybody studied their own topic.  At the museum it was really fun to talk about our subjects and teach people about our topics.  We got to spread our information around.  A lot of people studied animals, but we also had a good variety of topics.  It was good to see our families learn about things they did not know before.  Some people taught us more about our topics when they came to talk to us and ask us questions.  It was really fun teaching people information they did not know.  We did not think kids could teach grown-ups, but we did!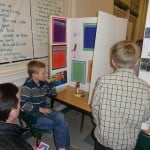 Here are the topics we chose to study and some of the interesting information we learned:
Collin – It was really interesting to learn about Pocket Bikes and spread the information around. They are small, but they can go fast.  Ellie – It was fun to learn about lightning and hear people say they did not know that lightning occurs inside an active volcano. Elijah – I liked learning about dogs and teach people about dew claws. Joe – I think it was fun to learn about skunks because I never know they could swim or that they could run nine miles per hour. Daniel – It was fun learning about the army and that German Shepherds are mostly used as Army dogs.  Catherine – It was fun to learn about chinchillas.  I learned they have to take one or two dust baths a week.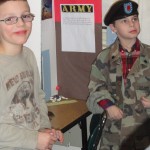 Ella – It was fun to spread figure skating around. People did not know Michelle Kwan won the Olympics. Naish – It was fun to hear people say they were interested in learning a lot about snowboarding. The founder of snowboarding was Sherman Poppins.  The first snowboarder ever made was called a snurfer. Ella – It was fun teaching people about leopards and that leopards walk on their tip toes. Garrett – It was fun to let people know what happened to Abraham Lincoln a long time ago and to remind them what a good president he was. Caroline – It was fun teaching people about owls. Some people were shocked that the wing span of a Great Grey Owl was bigger than Mrs. Eaves. Trevor – I thought it was fun learning about blob fish. The question I got most was "Where did you find out about them?" My answer was that I learning about them in The Ultimate Weird but True book.
Julia – It was fun letting people learn about jaguars. The question I got most often was, "where do they live?" I told them jaguars live in South America in the Amazon rainforest. Brandon-It was fun learning about German Sheperds. There were a lot of facts about them. Questions I got included "When were they found?" "Who made the breed?" "Why I wanted to learn about German Shepherds?" They are really smart and brave and strong and I am German so I always wanted one since I was a baby. Gabby-I liked teaching people about Sunday River. The person who started Sunday River was climbing up it when he thought of creating a ski slope. His name was Tom Thurston. Sam-I liked teaching people about the wold populations. Calvin-I thought it was fun teaching people about macaws. An interesting fact is that they are at least three feet tall. Brandon M-It was fun learning about wild cats.  What surprised me was the lion had the loudest roar. You can hear a lion roar up to five miles. Noah-It was interesting learning about lemurs because I never knew much about them before. My favorite lemurs are the mouse lemur and the flying lemur.
We had so much fun at the museum we hope to do it again.  There will be new topics. We have to get used to presenting. There will be more information, different things, and some people might learn new animals and stuff.